"Barbershop Christmas" – Promotional Package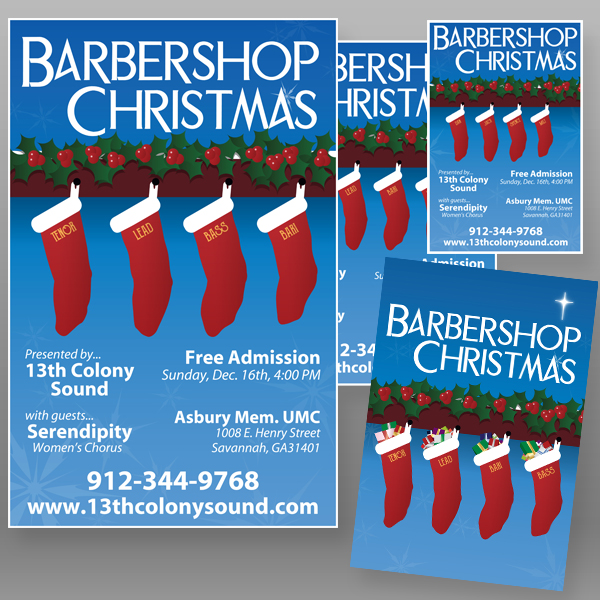 13th Colony Sound (Savannah, GA Chapter of the Barbershop Harmony Society) was doing a Christmas show and asked me to create the promotional materials for the event. This type of work often combines graphic design and illustration, and it did in this case.

On the illustration side, I came up with the idea of four stockings–one for each voice part. These are arranged in the order the voice parts of a barbershop quartet might stand. Holly decked the mantle with a festive, Yuletide flair. The blue of the background conveyed the coldness of winter, and faint snowflakes were added throughout the background to complete the wintry feel as well as add texture. At the time, the show did not have an official name, so I suggested "Barbershop Christmas." This name was simple and descriptive, plus, to my knowledge, the greater Savannah area had not seen a Barbershop Christmas event in years, so this might generate further interest in the event. I started with the 11″ x 17″ poster to create all the designs.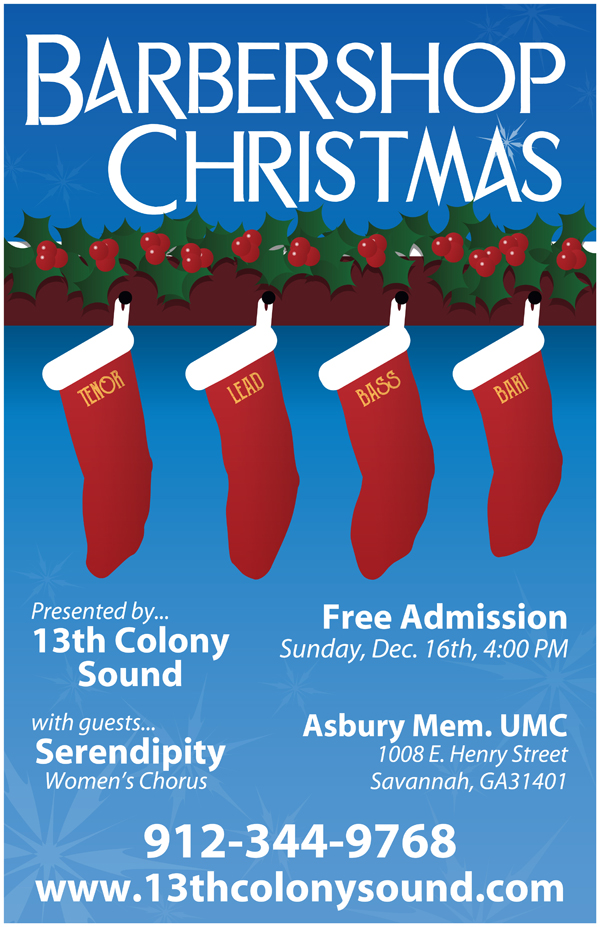 This design was reformatted for the 8.5″ x 11″ and 4″ x 6″ size poster and save-the-date type card. When completing the design for the 4″ x 6″ card, I changed the names on the stockings to singers in the chorus that had passed away within the past few years. The chorus had lost one of its charter members only 2 months before the show, so I knew this sort of thing would be important to them. I told the client that, even though this element might not make it to the final version, when I thought of this, I knew I had to at least present it. He loved the idea so much it stayed through to the final design.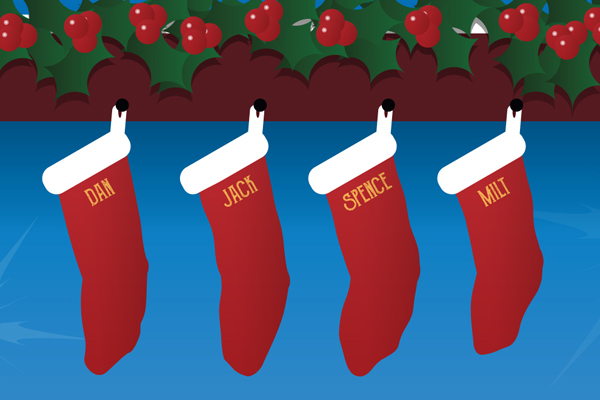 This design was then implemented into the format of the program cover. Since this was to be handed out at the actual event, event information was no longer needed. I used the extra space to add the Star of Bethlehem, reflecting the religious Christmas songs in the show, and, as Christmas had, in a sense, arrived for the audience, I filled the stockings with presents.